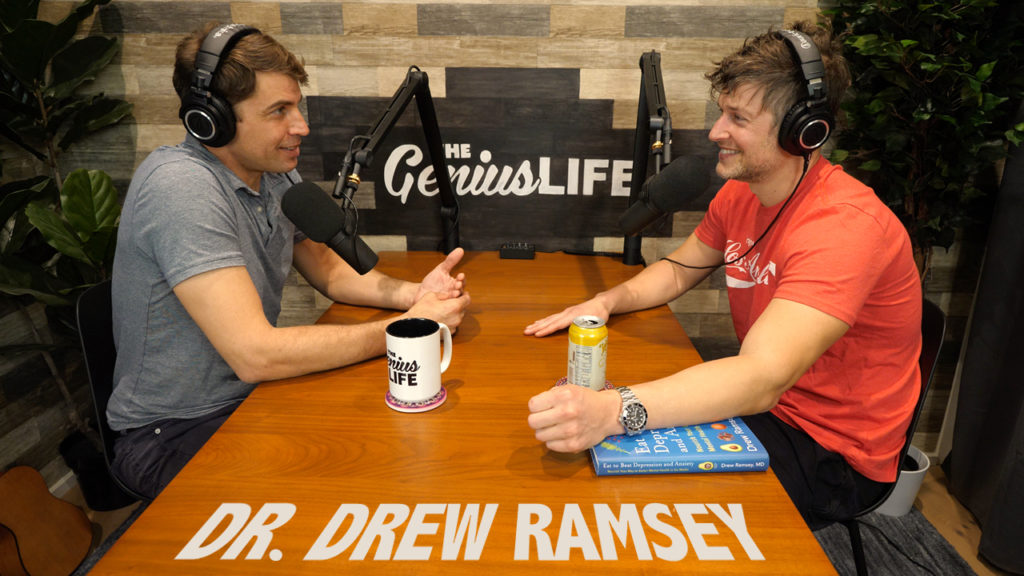 I was so excited to sit down with my good friend Max Lugavere for a recent episode of The Genius Life. Max is a fellow brainfoodie and we've known each other for quite some time so it's always great to catch up with him. The post vaccination trip out west to sunny LA wasn't bad either!
We talked a lot about my new book, Eat to Beat Depression and Anxiety and how to follow a way of eating that supports good mental health and prevents depression and anxiety. We also spent some time talking about the meat eater vs. vegetarian debate and how Max refuses to have a baby with a vegan woman;) I did my best to help him resolve his dilemma.
I hope you'll give this one a listen!
Listen on Apple Podcasts or Spotify!
SHOW NOTES
[07:15] How food played a role in the pandemic
[09:53] Learn about how I started my new book
[11:00] What gets forgotten in medical school
[12:10] What nutritional psychiatry really means to me
[12:53] I'm ready to debate this topic we talked about here
[15:15] The deal with serotonin
[16:49] What is BDNF and why it's important
[19:30] Which 6 nutrients can increase BDNF
[21:09] What foods I tell physicians to prescribe to their patients
[22:22] Where the food recommendations in Eat to Beat Depression and Anxiety come from
[24:54] Sneak peek into which foods are power players in my new book!
[31:10] Which two types of seafood you should include in your diet for better brain health
[32:09] Max and I nerd out over this one food
[34:55] Our opinions on plant based diets
[40:40] My thoughts on the ethics around eating meat
[51:00] One of the only nutrients tied to anxiety
[01:02:30] Changing the way we eat throughout different life stages
QUOTES
[11:01] "That's not stuff you talk about in a hospital, in medical training, in psychiatry training and it was just a kind of notable gap"
[13:48] "What they found is adding a Mediterranean diet improves…with the Smiles trial, 33% of individuals went into full remission"
[15:44] "How do we influence mental health? Well, we could probably all agree having a brain that is not dealing with inflammatory factors, having a gut that's healthy and having a brain that's in….grow mode"
[18:04] "BDNF increases brain connections"
[21:27] "Populations that eat less zinc have more depression"
[28:58] "I trust natural foods because I think that's where we came from and that's what our brains have been made out of"
[37:39] "I think for anybody listening, that's my just request, as a psychiatrist is that you have a plan that makes sense to you."
[01:01:14] I think that's where that.. combination of having the..animal based proteins and having the plants where…as we get into this dialectic and division of..one or the other..I think it really misses the point and I think it misses evolutionary what we've done"