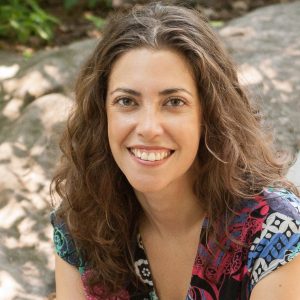 Samantha Elkrief, LCSW, is a therapist and health coach. Samantha's therapeutic style is trauma-informed, relational, action-oriented and experientially based. She is trained in Internal Family Systems (IFS), Cognitive Behavior Therapy (CBT), Mindfulness-Based Stress Reduction (MBSR), Non-Violent Communication (NVC), and Nutritional Psychiatry, and incorporates mind-body practices and somatic awareness into her clinical work.
Samantha helped co-create and produce the first Nutritional Psychiatry training, as well as our e-course, Eat to Beat Depression. She is also co-lead of the clinical team at the Brain Food Clinic.
Samantha specializes in working with individuals struggling with anxiety, depression, mood disorders, ADHD, addiction, and those navigating medical health concerns. She also helps clients improve their communication, emotional intelligence, self-awareness, self-compassion and acceptance, and connection with themselves and their bodies. Samantha works with people new to therapy as well as those who have experience with treatment and are looking for the right alliance and fit for the next step in their journey.
Samantha also focuses much of her work on couples in various stages of their relationships, including those in ethically non-monogamous relationships or curious about ENM, on improving communication and connection, preparing for relationship transitions like marriage, children or consciously uncoupling, and concerns or desires around sex and intimacy.
Samantha received her Master's Degree in Social Work from Columbia University and her health coach certification from the Institute for Integrative Nutrition. She is licensed as a therapist in NY and Florida and provides coaching worldwide.
She regularly appears as a guest on podcasts and her work has been featured in the New York Times, NY Post, MindBodyGreen, Refinery 29, Social Work Today, Eat Up New York, and on NBC.
Education & Training
Stony Brook University, BA
Columbia University School of Social Work
Institute for Integrative Nutrition
Natural Gourmet Institute Apprenticeship
Mindfulness Based Stress Reduction
Beck Institute, CBT for Depression
Internal Family Systems Circle
Somatic Experiencing
Specialties
Clinical Treatment of Depression and Anxiety
Nutrition and Mental Health
Coaching
Nonviolent Communication
Plant-based Cooking
Mindfulness and other wellness practices
Relationships, including ethical non-monogamy